2019 MTB Expedition Tours:
Join us in October for the 14 day / 13 Nights Chile/Bolivia MTB Expedition Tour of the amazing South Western Bolivia region which starts with 4 days in the high desert of Northern Chile, the Lagunas to Salar de Uyuni MTB Expedition. Sign up for this tour before August 3rd 2019.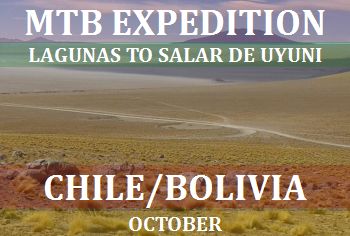 Future Tours being planned at present:
In July, Peru MTB Expedition Tour 10 days (Huscaran National Park)
Bolivia MTB Tour 7 days (La Paz/Death road/Sorata etc)
Interested in any of these trips in the future?
Please Join our mailing list to stay up to date.