Welcome to Beyond Andes Cycling Tours. We specialize in designing unique cycling tours in the most stunning locations in Colombia, Bolivia, and Peru. These countries are welcoming, safe, inspirational and culturally diverse. Our fully guided and fully supported South American Road Cycling and Mountain Bike Tours combine challenging and rewarding cycling experiences with world famous, ancient historical, geological and cultural destinations. Epic roads and trails, stunning scenery, amazing journeys. Interested in any of these trips?, Join our mailing list to stay up to date.
We ride You ride. Our cycling tours are for those people who ride and love a new exciting challenge, or are prepared to attain a totally new level of vitality by training to prepare (with programs we provide) for an extraordinary cycling holiday experience..We invite you to make a difference, a percentage of all Tour proceeds goes back to the local communities we visit, a chance to change the world of other peoples lives while experiencing a cycling trip of a lifetime.
Riders partners (Non riders) options:
Our Road cycling tours in Colombia, Bolivia and Peru have so many non riding activities that it was a natural decision to offer a non-riding tour option for partners or our riding tour members. We welcome you to bring your wife / husband or partner to enjoy the richness of these countries and tours. They will enjoy all of the non riding sight seeing, excursions and tourism with you, as well as additional guided tours in select locations. See tours for details.
Our 2019 Tours. Start planning now to join us next year.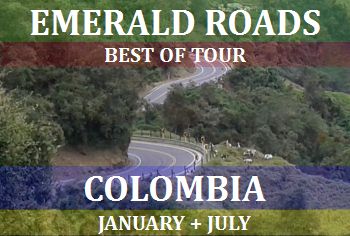 (Road Cycling) Emerald Roads Best of Colombia Tour January 28th – February 15th (NEW DATES) and July 19th – August 6th 2019. This amazing tour rides through 5 fabulous regions, including exploring Boyaca, the Cafe Cultural Quindio region and riding the Legendary Alto Letras and much more. $4995 USD for 19 days / 18 nights (everything included). The January tour will visit some stages of the amazing new Oro y Paz Race (Gold and Peace Race). Sign up for the January tour before November 25th 2018. Read more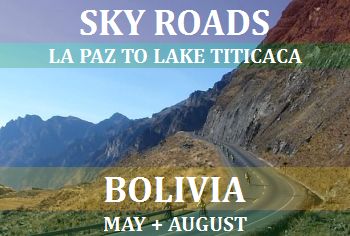 (Road Cycling) Sky roads La Paz to Lake Titicaca in Bolivia May 23rd – June 5th and August 16th – 29th 2019. This tour traces Inca history, rides the Bolivian Andean Altiplano, the Yungas (lower land jungle forest area) and the shores of Lake Titicaca . It includes a visit to the Island of the Moon and Sun on Lake Titicaca. This tour has so much variety, Road Riding, Hiking, Kayaking and Mountain Biking and a boat trip on Lake Titicaca. $2800 USD for 14 days / 13 nights (everything included) Sign up for the May tour before March 24th 2019. Read more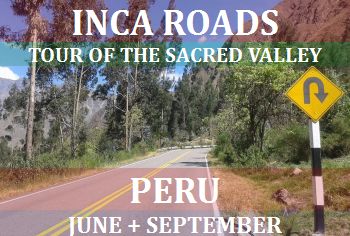 (Road Cycling) Inca roads Tour of the Sacred Valley June 9th – 25th and September 3rd – 19th 2019. This  Tour includes Guided tours of many Ancient sites in Cusco City and the Sacred Valley before finishing at the incredible ancient Inca city of Machu Picchu. The Peruvian Andes are spectacular and we ride the Legendary Abra Lares, the Majestic Abra Malaga and bath in incredible Mountain Hot springs. $3400 USD for 17 days / 16 nights (everything included). The June Tour dates are during the Inti Raymi Festival month in Cusco. Sign up for this June tour before April 14th 2019. Read more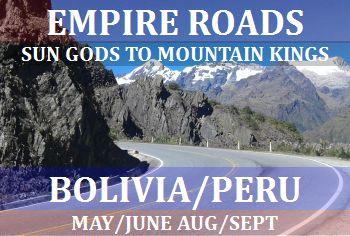 (Road Cycling) Empire Roads Sun Gods to Mountain Kings. May 23rd – June 25th and August 16th – Sept 19th. Starting in La Paz and finishing at Machu Picchu. We trace the history of the Inca Empire in Bolivia to its Centre in Cusco Peru. This tour is a combination of our Sky roads and Inca roads tour, and includes an extra 3 days and a stay on the floating islands Lake Titicaca Peru. An amazing tour of the Bolivian and Peruvian Andes with incredible site seeing and guided tours. $6900 USD for 34 days / 33 nights (everything included). Sign up for the May tour before March 24th 2019. Read more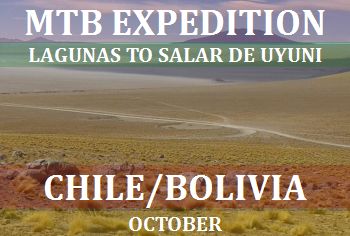 (MTB Expedition) Lagunas to Salar de Uyuni MTB Expedition Chile / Bolivia. October 1st – 14th 2019. Tour of the amazing South Western Bolivia region with volcanoes, hot springs, geysers, deserts and mountains.This Mountain Bike expedition tour starts in Northern Chile at the high desert town of San Pedro de Atacama and finishes at place that defies description, the Salar de Uyuni (the Worlds Largest Salt Plain). $2500 USD for 14 days / 13 nights (everything included) Sign up for this tour before August 6th 2019. Read more
These tours have been scheduled at the best time of year to maximize your experience of each of these countries and places.  Everything has been carefully planned and considered. From the roads and trails, to the weather conditions for these dates, to the accommodations and food options as well as the flow and challenge of each day with respect for what follows in the next days.